This payment is for payers who will be:
Making payments from your own or family member's bank account,

Taking an educational loan,

Required to show their bank the payment instructions and authorisation letter

Making the payment for a student who is an Indian citizen
Please do not use this payment method if:
The student is not an Indian resident

You wish to pay from an NRE/NRO/Company/Current account
If you select to pay via "Domestic Bank Transfer in Indian Rupees (INR)" when creating a payment request, you will be able to access and download your payment instructions once you have successfully submitted an LRS Declaration.
Payer Information
Please enter the correct payer's details when booking your payment. The payer would be the bank account holder or an applicant on the educational loan. If there is more than 1 name on the bank account/loan, please enter the primary name or request your bank to send the funds under the name you provide on our website.
**Important: If the names do not match with the bank account, the payment will be delayed for further verification.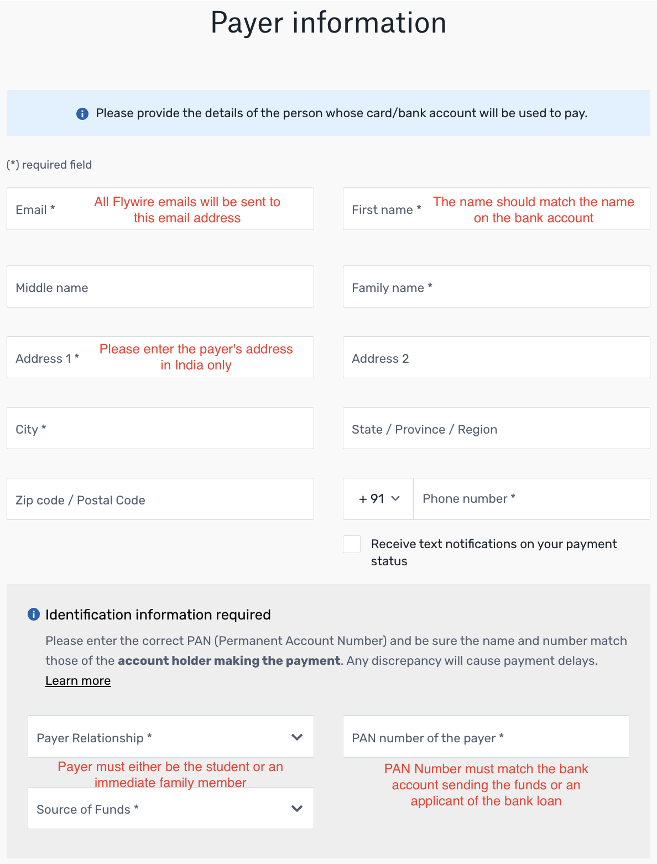 Making the Bank Transfer
Please make sure to follow the payment instructions specially created for your payment ID only. Each payment ID may have different instructions and bank account details. Flywire works with a few local partners, thus you may be provided with a different bank account from your previous payment IDs.
Please transfer your funds from either an individual/personal account or an educational loan account. Kindly note that due to TCS regulations, the payer must be either the student or an immediate family member such as parents, grandparents, siblings, spouse or parents-in-law. Friends, cousins or uncles and aunties are not accepted. We also do not accept payments from the following account types:
NRE/NRO account (non-resident account)

Company account

Sole Proprietorship account Partnership firms

HUF

Trust funds
You may transfer your funds either through National Electronic Funds Transfer (NEFT) or Real Time Gross Settlement (RTGS), using netbanking or going to the bank branch. Please do not use IMPS to send funds to Flywire. For payments from bank loans, you can also provide the payment instructions to your bank so they can make the transfer on your behalf.
After you have made the bank transfer, please note that our local partners require 2-3 business days to verify your payment for TCS. During this time, your payment status in Flywire will remain as Pending. Our local partner will reach out to the payer directly if more information is required. Only once the TCS verification has been completed, Flywire will send a confirmation email that we have received your funds and we can update your payment status to Received. Flywire will then process the funds and deliver them to your institution.
Click here for more information on how to track your payment.