It is possible to schedule future payments via Flywire's mobile application for Android and iOS.
When creating a payment request via the mobile application, you will be provided the option to schedule future payments at the review & confirm page and the tracking page once the payment request has been created. This option allows you to schedule up to three future payments by creating the corresponding payment requests; however, it is still necessary to complete the payment on the scheduled date.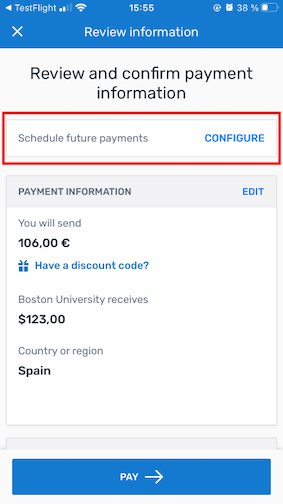 Flywire will send you a push notification the day of your scheduled payment and you will then need to complete your payment via your preferred method. After receiving the push notification, please click on the notification, and then click "confirm". You will not need to select the payment method again. In case you would like to make the scheduled payment ahead of time, you may also use the "pay now" button on the list of the scheduled payments.
Please keep in mind that the actual amount of any future scheduled payments may vary due to rate fluctuations and will be calculated based on Flywire's applicable rate. If you no longer wish to complete a future scheduled payment, you can cancel the payment request directly from your Flywire mobile application.
Once you have set up the scheduled payment, it will only be visible and available on the same device you used to schedule your payment. If you log in on another device, your scheduled payments won't be available. Additionally, please note that if you log out and do not log back in, you will not receive the push notification to proceed with your scheduled payment.