Note: this is not the same as receiving an email from support@flywire.com.
This page is only applicable if you have received an email from our local partners:
Lulu Forex: flywiredocuments@in.luluforex.com

Muthoot: flywiredocuments@muthoot.com
After you have made your bank transfer, your funds will need to first be verified by our local partner for TCS filing and calculation purposes within 2-3 business days before your payment is reflected in Flywire. If there is a mismatch between your PAN number and payer's name, our partner will send an email to the payer's email address.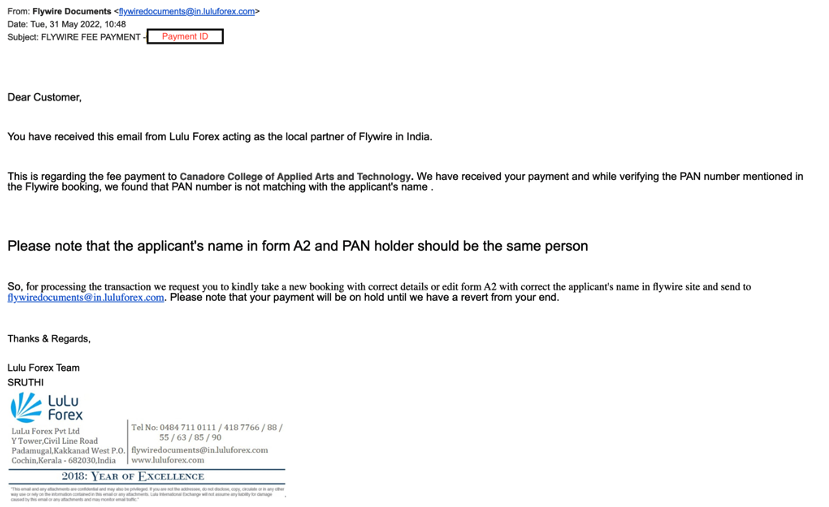 Please follow the following steps:
You will need to first check if the PAN number entered is correct and a match with the bank account holder who sent the funds. e.g. If your parent has sent the funds from their account, it should be your parent's PAN number.
You can do this by returning to your Flywire payment page via the tracking link inside the Flywire email, or by signing into your Flywire account if you have added the payment to your account. Please click on "Edit Payment Details" to view the PAN number to ensure that it is correct.
If the PAN number is correct:
Please edit the payer's name to make sure that it matches the PAN card holder. Please remember to click "Save" to make the change.

If you did not upload the correct PAN card holder's national ID, please resubmit the LRS form again.

Once you made the change, please reply to the above email to Lulu Forex/Muthoot to let them know that they can review your payment once again for TCS verification.
If the PAN number is wrong (e.g. a wrong alphabet/number or the PAN number is not the bank account holder)
Please note that the PAN number CANNOT be changed on a payment request. The payment ID cannot be processed if the PAN number is incorrect.
Kindly create a new payment request with the correct PAN details. As the new payment request will follow the live exchange rates, the amount of INR required will change.

If the amount in INR on your new payment ID is lower than what you have already sent, Lulu Forex/Muthoot will process only the amount required and return the excess funds back to the originating account. You do not need to make a new bank transfer.

If the new amount in INR is more than what you have already transferred, please make a second bank transfer for the remaining amount

from the same account as the first bank transfer

.

Please reply to Lulu Forex with your new payment ID (and your second bank transfer receipt if required). They will be able to transfer your funds to the new payment ID to send to Flywire.